Hearing aids help people with hearing loss communicate and enjoy daily activities. Use our guide to research and find the best hearing aid company for you. We looked at features, designs, styles and prices so you can find the right hearing device for your budget and lifestyle.
Why trust Reviewconsumerservices?
Our recommendations are based on what reviewers say.
3,713,776 reviews on Reviewconsumerservices are verified.
We require contact information to ensure our reviewers are real.
We use intelligent software that helps us maintain the integrity of reviews.
Our moderators read all reviews to verify quality and helpfulness.
Our 5 Top Hearing Aids Picks
To narrow down the hearing aid brands on this guide for our picks, we first eliminated those with a star rating below 3.5. To stay on the list, companies also had to have at least a 2:1 ratio of 5-star to 1-star reviews, based on verified review data collected between April 26, 2020, and April 26, 2021.
All prices are correct as of the time of publishing.
Our top pick overall
Miracle-Ear Hearing Aids
AUTHORIZED PARTNER
Featured model: Miracle-EarEASY RIC 312
Featured model starting cost: Varies
Trial period: 30 days
Warranty: Three years
Learn More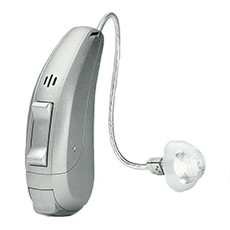 We like that the Miracle-EarEASY RIC 312 is relatively affordable and discreet. The company also offers models with Bluetooth capabilities and water resistance. In-the-ear, receiver-in-canal and behind-the-ear models are available. To get started, you can book an appointment online, take a free hearing test or visit a local center near you.
What reviewers like
With 4.7 stars, Miracle-Ear is the highest-rated company on our hearing aid guide as of publishing. Nearly 80% of customers said that they would recommend it to a friend in the last year. Positive reviews frequently include phrases like:
Comfortable to wear
Great battery
Fair price
Good for tinnitus
Our pick for comfort
Eargo
AUTHORIZED PARTNER
Featured model: Eargo NEO HiFi
Featured model starting cost: $1,950
Trial period: 45 days
Warranty: Two years
Get Pricing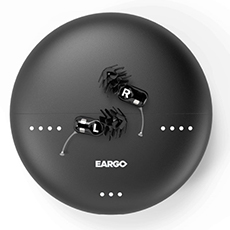 The Eargo NEO HiFi is another good choice for those who want a discreet device that's also rechargeable. It comes with noise reduction and feedback cancellation features to deliver clear, natural sound. Eargo's Sound Profiles are designed for those who want more clarity as opposed to more volume.
More affordable models are also available at the time of publishing, including the Eargo MAX for $1,450 a pair and the Eargo 5 for $2,450 a pair. The company has also recently released the Eargo 6, its most advanced device, for $2,950 a pair. With financing, Eargo's hearing aid costs start as low as $70 and go to $137 per month, depending on the model you choose. You can get a hearing check through the company's website to find out if you're a suitable candidate.
What reviewers like
Eargo has a 4.3-star overall satisfaction rating as of publishing. In the last year, about 72% of verified customers said they would recommend the company to a friend. Some highlights from happy reviewers include:
Comfortable to wear
Great technology
Good price
Good battery
Our pick for value
Embrace Hearing
AUTHORIZED PARTNER
Featured model: The X-Series
Featured model starting cost: $899 per ear
Trial period: 45 days
Warranty: Three years
Get Pricing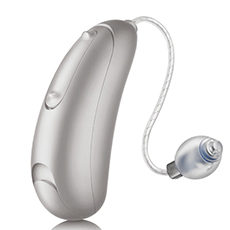 Hearing aids in Embrace Hearing's X-Series devices are rechargeable and come with Bluetooth to make hands-free phone calls and TV streaming easier. The company programs the device according to your hearing test, and remote reprogramming and adjustments are also available.
C-Series hearing aids are made to fit in the ear canal. They're discreet, and you can control them through a smartphone app. Devices in this series are designed to be comfortable for users wearing masks and large glasses.
What reviewers like
Embrace Hearing has a 4.6-star overall satisfaction rating as of publishing. In the last year, about 76% of reviewers said that they would recommend the company to a friend. Highlights from happy customers include:
Great price
Easy to use
Advanced technology
Good for tinnitus
Our pick for rechargeables
MDHearingAid
Featured model: VOLT+
Featured model starting cost: $599.99 per ear
Trial period: 45 days
Warranty: 90 days
Learn More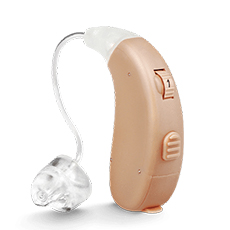 The VOLT+ model features easy-to-recharge batteries and dual microphones. Its batteries last over 24 hours on a single charge, and the magnetic charging case can supply up to three full charges. This company's FDA-registered hearing aids are for mild to moderately severe hearing loss.
Other models start between $199.99 and $799.99 per ear. Discounted bundle packages are available for most devices. For those who qualify, financing costs start at $16.67 to $83.33 per month.
What reviewers like
So far, in 2021, about 67% of MDHearingAid reviewers said that they would recommend the company to a friend. The company has a 3.7-star satisfaction rating, but some recurring themes from 5-star reviews include:
Easy to recharge
Comfortable to wear
Good customer service
Fair price
Our pick for hearing care and support
Beltone Hearing Aids
Featured model: Imagine
Featured model starting cost: Varies
Trial period: 30 days
Warranty: One year
Learn More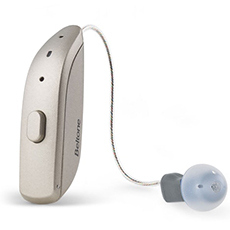 Beltone's Imagine uses M&RIE (microphone and receiver in ear) technology to offer a highly customizable experience. The design works with your ear shape to deliver natural sound, and it even works with noisy backgrounds and windy environments.
Another feature that makes Beltone stand out as a company is its customer care. Beltone offers online hearing tests, and you can get a consultation at one of its over 1,500 physical locations or in your own home with Beltone Remote Care Live. The company's remote consultations use video chat technology to let you communicate with a hearing care professional and adjust your hearing aids.
What reviewers like
Beltone has a 4.1-star overall satisfaction rating as of publishing. Some highlights from happy customers include phrases like:
Comfortable to wear
Long battery life
Great customer service
Free device cleaning
Compare Top Hearing Aid Reviews

Special Offers (1)

Read 364 Reviews

Offers three models. Rechargeable hearing aids available. Helps mild to severe high-frequency hearing loss. Sells hearing aids online and ships to your door. Costs start at $1,500. Provides assistance from hearing professionals.

Get Pricing
Read 385 Reviews

Offers hearing aids from eight manufacturers. Features include enhanced speech clarity, Bluetooth, and rechargeability. Prices start at $1,200 with affordable financing options and a 45-day no-risk trial.

Get Pricing
Read 97 Reviews

Direct-to-consumer hearing aids. Provides customized products at a variety of price points. Offers a 45-day money-back trial. Claims savings of up to 70% over retail. Website includes a free hearing test.

Get Pricing
Read 374 Reviews

Offers custom-programmed Bluetooth and rechargeable hearing aids with three-year warranties and a 45-day free trial. Prices start at $899 per ear for the X-Series and $599 per ear for the A-Series.

Get Pricing
Read 153 Reviews

Offers five hearing aid styles. Offers feedback cancellation, wax resistance, button and switch control and options for iPhone. Covers mild to severe hearing loss. Prices start at $1,799 per hearing aid.

Read 2,938 Reviews

Offers seven models. Stocks devices with rechargeable batteries, Bluetooth capability, speech isolation and remote control. Includes a 30-day trial and three-year limited warranty. Costs $1,000 to $4,000 per hearing aid.

Read 212 Reviews

Sells three models. Includes rechargeable options, Bluetooth capability and a companion app. Covers mild to profound hearing loss. Available through select dealers. Prices for one hearing aid start at $1,149.

Read 15 Reviews

Powered by Lucid hearing aid technology. Includes high-resolution Bluetooth streaming for calls and audio. No audiogram required. Financing options available. Prices as low as $91 per month. Free shipping.

Read 51 Reviews

Veteran-owned hearing aid company offering three hearing devices. Doesn't require a medical exam. Provides a one-year warranty and free shipping on purchases and returns. Prices start at $399 per ear.

Chat with a Reviewconsumerservices decision guide

Live agent
Read 453 Reviews

Sells four models. Offers noise reduction, feedback cancellation, optional remote and Bluetooth functionality. Covers mild to severe hearing loss. Includes 30-day trial. One hearing aid ranges from $499 to $999.

Chat with a Reviewconsumerservices decision guide

Live agent
Hearing aid costs and types
When choosing a hearing aid, one of your most important considerations is the type of device you want, also referred to as its style. The type of device you choose determines how the hearing aid fits in your ear, how it works and its appearance. Certain fits are better for specific hearing loss profiles, so it's good to talk to an audiologist about the best style for you. There's also a correlation between the different types of hearing aids and prices.
Behind-the-ear hearing aids (BTE)
| | |
| --- | --- |
| AVERAGE COST | $400 to $1,700 per ear |
| PROS | High durability, long battery life, powerful |
| CONS | Less discreet appearance, more prone to wind noise |
Behind-the-ear hearing aids are generally plastic, with the earpiece resting behind the ear. The earpiece holds the circuitry that makes the hearing aid work. A small plastic tube transmits audio from the plastic earpiece to an earmold that sits inside the ear canal.
A BTE hearing aid is larger than other types and often offers a higher level of amplification. It's frequently a better option for children because they are easy to clean and can fit over almost any ear, no matter the wearer's age. BTE hearing aids are appropriate for mild to profound hearing loss.
Open-fit hearing aids
| | |
| --- | --- |
| AVERAGE COST | $300 to $1,400 per ear |
| PROS | Less visible than other behind-the-ear models, doesn't plug the ear canal, noise feedback cancellation |
| CONS | Small parts can be difficult to handle |
Open-fit hearing aids are behind-the-ear hearing aids that are smaller than standard BTE models. They are called open-fit because the tubing is thin and leaves the ear canal open. Because the canal is open, it can naturally pick up low-frequency audio, but high-frequency sounds that are harder to hear go through the hearing aid to be amplified. The typical design uses a small tube or wire to transfer sound from the outer earpiece to the ear canal. These hearing aids can also cancel noise feedback. Open-fit hearing aids are best for those with mild to moderate hearing loss.
In-the-ear hearing aids (ITE)
| | |
| --- | --- |
| AVERAGE COST | $500 to $1,500 per ear |
| PROS | Good for those with limited dexterity, can accommodate multiple features, added comfort, longer battery life |
| CONS | Not as powerful as BTE hearing aids, susceptible to wind noise, earwax may clog speaker |
This type of hearing aid sits in the outer portion of the ear, making it easy to insert and remove. All components are located within the case. In-the-ear models are more discreet than behind-the-ear models but sometimes have fewer technological features because of their smaller size. In-the-ear models are a good option for those with mild to severe hearing loss.
In-the-canal hearing aids (ITC)
| | |
| --- | --- |
| AVERAGE COST | $900 to $1,500 per ear |
| PROS | Discreet, directional microphones, comfortable fit, more immune to wind noise |
| CONS | Can lack features of larger styles, can clog |
In-the-canal hearing aids are a discreet type of in-the-ear hearing aid that rest in the ear and show only a small portion of the hearing aid outside the ear canal. They stay in place well but may not offer as many features as larger styles. ITC hearing aids are a good option for mild to severe hearing impairment.
Completely-in-canal hearing aids (CIC)
| | |
| --- | --- |
| AVERAGE COST | $900 to $3,000 per ear |
| PROS | Discreet, better wind noise reduction, minimal phone feedback |
| CONS | Wax buildup and moisture pose greater threat, small batteries mean shorter life span |
Completely-in-canal or completely-in-the-canal hearing aids are designed to mold to the inside of the ear canal. These devices have one of the most unobtrusive designs available. They're discreet but don't offer the volume control available on other types of hearing aids. Invisible-in-the-canal (IIC) hearing aids, a type of CIC hearing aid, are custom-fitted and placed farther down in the ear canal, making them almost invisible. They provide natural sound but may lack the directionality of more visible styles. CIC hearing aids work well for mild to moderate hearing loss.
Receiver-in-canal hearing aids (RIC hearing aids)
| | |
| --- | --- |
| AVERAGE COST | $600 to $2,000 per ear |
| PROS | Good audio control, less distortion, smaller earpiece |
| CONS | Limited amplification abilities, occasional earwax clogs |
You might hear receiver-in-canal hearing aids referred to as mini-behind-the-ear hearing aids. Because the receiver is in the canal instead of in the earpiece, the plastic casing behind the ear is smaller. RICs rest behind the ear like BTEs, but they have a smaller casing and are connected with wires instead of tubing. The design may get clogged more easily than other types, but it offers wearers the advantage of creating less distortion. It's a good choice for those with mild to severe hearing loss.
Hearing aid features
Modern hearing aid technology can deliver good audio quality for mild to severe hearing loss. Common popular features include Bluetooth capabilities, tinnitus management programs and mobile apps. Higher-end hearing aid technology incorporates feedback reduction to filter out irrelevant background noise and enhance speech understanding.
Depending on your listening needs, your lifestyle and the features you want, you can buy a device with basic, midrange or advanced hearing aid technology.
Advanced hearing aid technology

Advanced hearing aid technologies might include:

Directional microphones: Directional microphones increase the clarity of the sounds in specific areas around you, whether that's the TV or someone you're talking to. Directional microphones also have wide dynamic compression, which amplifies quiet sounds more than loud sounds to help you hear more clearly.
Multiple channels: A hearing aid with three channels might separate incoming audio into low-frequency, mid-frequency and high-frequency categories. It treats each of these frequency levels differently, minimizing low-frequency sounds and amplifying high-frequency sounds. A hearing aid with more channels provides a more customizable listening experience.
Preprogrammed hearing aids: Some hearing aids come with preprogrammed settings. These listening environments might be commonly used settings that have a proven track record or safety settings for children that prevent a hearing aid from being turned up too loud by accident and causing damage.

Hearing aid noise cancellation

Noise cancellation features may include:

Digital noise reduction: Digital hearing aids can be programmed to recognize distracting ambient noise and reduce it, making it easier to hear speech and improving overall voice clarity.
Binaural processing: Binaural processing lets your hearing aids communicate with each other. This cross-ear coordination helps eliminate distracting noises and provides a better listening experience.
Wind noise management: Wind is a common problem for hearing aids — it blows on the microphone and creates an unpleasant, distracting sound. Hearing aids with wind noise management identify wind noise and reduce or eliminate it rather than amplifying it.
Feedback suppression technologies: Hearing aid feedback suppression or reduction is a standard feature in most hearing aids. You've probably heard a microphone let off a high-pitched whine when it encounters interference. Feedback suppression technology helps prevent this from happening with a hearing aid.

Compatible hearing aid devices

Hearing aids may be compatible with a number of different devices:

Phone compatibility: Electronic interference from telephone conversations can cause problems for hearing aids. Many hearing aid users avoid talking on the phone for this reason. However, a telecoil reduces feedback and increases audio clarity. A telecoil works by transmitting sound from the telephone by a magnetic signal rather than an acoustic signal. This helps avoid interference and makes taking phone calls a more pleasant experience.
Bluetooth compatibility: Hearing aids can wirelessly connect to other Bluetooth-compatible devices and stream directly from the audio source to the hearing aid. You can also stream music or receive mobile notifications reminding you to replace your batteries. For more information, check out our Bluetooth hearing aids resource.
FM hearing aid systems:

FM systems are sometimes used in conjunction with hearing aids. They work similarly to walkie-talkies, and children with hearing difficulties can benefit from their use. A family member working in the house or a teacher in a large classroom can

 wear a microphone and the FM transmitter, and the hearing aid's

 FM receiver picks up the audio and delivers it to the user. This lets an adult talk to children from far away

, for example. Although FM systems are most commonly used to help children, adults can use them too.

IFTTT connection: Some hearing aids connect to a web-based service called If This Then That (IFTTT). It uses applets to program hearing aids and other smart devices in the home to respond to one another in certain circumstances. For example, you can program an IFTTT applet to turn off all the lights in your home and activate the security system when you take out your hearing aids at night.

Rechargeable batteries

Traditional hearing aids have disposable batteries that last just a few days. Hearing aids with rechargeable batteries are more convenient and easier to use. Wearers charge the batteries when they're not using them — typically right before bed so the batteries charge overnight.
How to get a hearing aid
If you've experienced hearing loss and need help, it's potentially time to buy a hearing aid. Read the steps below to see every step involved, including choosing the right hearing aid type, asking the right questions and maintaining your hearing aid.
1. Visit your doctor
If you are experiencing hearing loss and finding everyday life more difficult to follow, the first step is to visit your doctor or an ENT (ear, nose and throat) specialist. A doctor can determine whether your hearing loss is temporary — for example, caused by built-up earwax, an infection or another factor — or whether the hearing loss is irreversible. This doctor can refer you to a trusted audiologist with more specialized training on the topic.
2. Take a hearing test
The audiologist conducts a hearing test to see what your level of hearing is and provides you with a full hearing loss profile. This helps later when deciding the hearing aid "gain," i.e., the power level your new hearing aid will require. The audiologist will also answer any questions you have about hearing aids and hearing loss.
3. Decide what type and style you want
When you compare hearing aids and hearing aid brands, consider the different styles. Many hearing aid styles are common among all hearing aid manufacturers and distributors, but some brands specialize in a specific type. If you are looking for a discreet version, ask about completely-in-the-canal (CIC) styles. If you're looking for hearing aids with a convenient charging option, receiver-in-canal (RIC) models often have rechargeable batteries. Certain styles provide additional comfort depending on the shape of the ear.
4. Consider your budget
Hearing aids cost $1,000 to $4,000 on average, so most people need to budget and carefully plan their payments. Many people are surprised at how expensive hearing aids can be, but the quality of life improvements and overall value often make hearing aids worth the expense.
Make sure to note if the price is per pair or per ear.
It's possible to negotiate the price of a hearing aid. Plus, some audiologists or hearing aid companies offer price-match guarantees, and financing is often available to help break up this cost. It never hurts to ask, especially if you're concerned about a hearing aid purchase breaking the bank.
For the most part, health insurance doesn't cover hearing aids. However, coverage is sometimes available for veterans, federal government employees and children (23 states require hearing aid coverage for kids). Certain organizations, such as Lions Clubs International, help buyers afford hearing aids.
5. Shop around and compare
It's always smart to read reviews when making an important purchase. As you compare companies, remember that if it sounds too good to be true, it probably is. Don't expect a hearing aid to fully restore the exact hearing experience you had in the past — it's not wise to trust any dealer or retailer who promises this.
We suggest looking for companies that offer a trial period and provide some kind of warranty.
Trial period: Many brands allow consumers to try out a hearing aid for 30 days or more. If the hearing aids don't work, discuss your chief issues with your audiologist, who will help you find a better fit. Ask if the trial period has any additional fee, such as a restocking fee, if you return the hearing aid.
Warranty: Almost all hearing aids come with at least a one-year manufacturer's warranty. You might also be able to purchase a two- or three-year warranty on top of that to cover damage and repairs for an additional fee. A longer warranty is often worth it, especially for the peace of mind.
6. Buy the hearing aid
Once you've decided the hearing aid is worth it, it's time to buy. It's wise to ask for a written contract first, though. Make sure you understand all the details, including the return policy, warranty and if future hearing tests and adjustments are complimentary.
7. Adjust the hearing aid
You might need minor adjustments as you get used to a new hearing aid, but this is totally normal. The device might feel uncomfortable or awkward at first, and your brain must undergo "training" to adapt to this new way of hearing. Take time to adjust to your hearing aid — that's also what the trial period is for.
8. Schedule a follow-up appointment
Don't be afraid to schedule additional appointments to speak to your audiologist about continued discomfort or other questions you have. Eventually, you should find a hearing aid that works for you.
Hearing aids FAQ
What is a hearing aid?

Hearing aids are small electronic devices that make it easier for wearers to hear the sounds around them. Hearing aids help people talk with their loved ones, listen to their favorite music or movies and be more aware of their environment. Hearing aids are different from cochlear implants, which are surgically implanted and designed to help people with profound hearing loss.

Hearing aids should also not be confused with personal sound amplification products (PSAPs), which lack the technological sophistication of hearing aids and are primarily used to amplify specific sounds in quiet environments. Though they might seem similar, sound amplification devices are not substitutes for hearing aids and are not approved by the U.S. Food and Drug Administration to treat hearing loss.

How do hearing aids work?

Hearing aids consist of three basic parts: a microphone, an amplifier and a battery.

The microphone picks up sound waves from the wearer's environment, converts them into electrical signals and sends them to the amplifier.
The amplifier boosts the power of the signals and sends them to the inner ear.
The small battery serves as the power source for the hearing aid. Unless the battery is rechargeable, it must be replaced when it runs out of charge.

Some hearing aids feature one or more directional microphones, which focus on sounds in specific areas. Other microphones are designed to pick up sounds from multiple directions.

Larger batteries tend to have a longer charge life — up to two weeks in some cases. Smaller batteries have a life of three to five days and are often rechargeable.

How much is a good hearing aid?

The average cost of a good hearing aid ranges from $1,000 to $4,000, depending on its type, features, warranty and other factors. Hearing aids with fewer features sometimes cost less than $1,000, while high-end hearing aids with the best technologies cost closer to $6,000.

Are hearing aids covered by Medicare?

Original Medicare doesn't cover hearing aids, but some Medicare Advantage plans offer extra benefits that Original Medicare doesn't. Check your plan details to see if you're eligible for hearing aid coverage. Other sources of hearing aid coverage include:

The Department of Veterans Affairs: If you're a veteran, you may be able to obtain hearing aids for free or at a discounted price through the VA.
Nonprofits or charities: Find out if you're eligible for assistance from a nonprofit organization that helps individuals pay for hearing aids.

What is a digital hearing aid?

A digital hearing aid analyzes sound waves before deciding how to amplify them. Digital technologies provide a more personalized listening experience than a traditional analog device.

Digital hearing aids do more than amplify audio. They separate voices from unwanted noise and make smart decisions on what to amplify and what to minimize. This process reduces distracting background noise, like restaurant chatter or high-frequency white noise, such as the hiss of an air conditioning unit. This capability makes digital hearing aids more popular among consumers but also more expensive.

What is the difference between an analog and digital hearing aid?

Hearing aids are made with two types of technology: analog and digital. Analog hearing aids are less popular in today's market but generally cost less than digital hearing aids, which often makes them better for those on a budget. Analog hearing aids amplify all sounds in the environment — both voices and unwanted noise.

Digital and analog hearing aids process audio differently. Digital hearing aids use a processing chip to analyze sound waves and determine whether they should be amplified or neutralized. The selected sound waves are sent to an amplifier. In analog hearing aids, the sound waves go straight to an amplifier without being analyzed. The amplifier strengthens the signals and sends them to a receiver (or speaker). An in-the-ear hearing aid (ITE) sends the signals through a tube and into the earmold that rests in the ear canal. In a behind-the-ear hearing aid (BTE), the sounds go through a thin wire to a receiver in the ear. The user's inner ear then translates those sounds into electrical impulses that are processed by the brain.

Who qualifies for a hearing aid?

If you feel you're missing out on the sounds around you, then you might qualify for a hearing aid. Start by visiting your doctor, who can refer you to an ENT specialist or audiologist for an exam. Once a professional determines you need a hearing aid, work with your audiologist to pick one that's suited to your lifestyle and level of hearing loss.

Is it OK to buy hearing aids online?

You can purchase hearing aids online, but it's smart to visit your doctor for an exam before you do. If your doctor or audiologist determines that you need hearing aids, ask them for recommendations on size and brand before searching online. An audiologist also ensures your hearing aid fits comfortably in your ear. Be wary of especially cheap hearing aids — the value isn't always what's expected.

Do hearing aids help tinnitus?

Yes, hearing aids can help with tinnitus. While there is no cure for tinnitus, many hearing aids have comfort settings with white noise or calming sounds that help relieve the symptoms. For more information, check read our guide to finding the best hearing aids for tinnitus.

Do I need a hearing aid for mild hearing loss?

A hearing aid isn't necessarily required if you have mild hearing loss, but hearing aids that treat mild hearing loss do exist. With these hearing aids, it's easier to hear more subtle sounds like birds chirping, whispers and leaves rustling.

Can I get my hearing aid reprogrammed?

Yes. Work with an audiologist to reprogram your hearing aid to best fit your hearing profile in a variety of listening environments.

What is the most advanced hearing aid?

The most advanced hearing aids do more than increase the audio volume from the environment. They use digital technology to increase and decrease sounds based on their frequency and location to provide the best possible clarity. While the most advanced hearing aids can't exactly replicate the 

full 

pre-hearing loss 

experience

, they come close.

What is the most expensive hearing aid?

The most expensive hearing aids commonly available on the market cost about $6,000.

What causes hearing loss?

Hearing loss is a common issue — about half of people ages 75 and older experience hearing issues, and one-third of people ages 65 to 74 have trouble hearing. Hearing loss can happen as a result of injury, from working in loud environments or naturally as we age. Men are twice as likely as women to experience hearing loss, according to a 2017 study.

Hearing loss occurs when the tiny hair cells within the ear are damaged. Normally, healthy hair cells act as interpreters for the brain. When these hair cells pick up sound waves, they convert the sound waves to electrical signals the brain can process and understand. Aging, prolonged exposure to loud noises and certain medications can damage hair cells. Once a hair cell dies, it cannot be revived.

Sometimes, hearing loss is the result of earwax buildup, an infection, fluid buildup or a treatable malformation. A doctor can help with these cases. However, if the hearing loss is not correctable, it's time to think about purchasing a hearing aid. Schedule an appointment with an audiologist to take a hearing test and determine the right solution for you based on your audiogram results.

How long does a hearing aid last?

Quality hearing aids typically last anywhere from three to eight years.
What are the best hearing aid companies near me?
A local audiologist can help find a hearing aid that fits you perfectly. We compared our favorite hearing aid stores across the U.S. to help consumers find trusted audiologists in their city.
Thank you, you have successfully subscribed to our newsletter!
Guide sources

Reviewconsumerservices writers primarily rely on government data, industry experts and original research from other reputable publications to inform their work. To learn more about the content on our site, visit our FAQ page.
Hearing aid author reviews
Compare Top Hearing Aid Reviews

Read 659 Reviews

Offers four main hearing aid models, with various other versions available. Includes Tinnitus Breaker technology on some models. Serves mild to profound hearing loss. Starting price for one hearing aid is $2,500.

Chat with a Reviewconsumerservices decision guide

Live agent
Read 88 Reviews

Offers six styles of hearing aids with wireless charging, remote control and Bluetooth capabilities. Offers free demonstrations, hearing test and cleanings. Hearing aids start at $1,499 per pair.

Chat with a Reviewconsumerservices decision guide

Live agent
Read 33 Reviews

Offers several lines of hearing aids with dozens of models to choose. Focused on new technology and streamlined design. Direct streaming of phone calls, music and TV. Free trial. Special services for military and veterans.

Chat with a Reviewconsumerservices decision guide

Live agent
Read 127 Reviews

Offers 20 models. Offers noise cancellation, rechargeable batteries and Bluetooth capabilities. Provides options for single-sided hearing and a compatible app. One hearing aid starts at $1,199.

Chat with a Reviewconsumerservices decision guide

Live agent
Read 182 Reviews

Sells behind-the-ear and in-the-ear styles. Smart technology updates user preferences. Bluetooth connectivity. Covers mild to profound hearing loss. Available at select dealers. Costs $1,200 to $1,799 per hearing aid.

Chat with a Reviewconsumerservices decision guide

Live agent
Read 119 Reviews

Sells 16 adult models and five youth models. Offers tinnitus relief, rechargeable batteries, remote control and Bluetooth connectivity. Sells two severe-to-profound hearing aid models. Prices start at $1,800 per hearing aid.

Chat with a Reviewconsumerservices decision guide

Live agent
Read 32 Reviews

Sells 15 hearing aid models. Technology options include feedback suppression, memory settings and push button control. Prices start at $350 per hearing aid.

Chat with a Reviewconsumerservices decision guide

Live agent
Read 166 Reviews

Provides a fully online shopping experience, including 100% free hearing evaluation. Four styles available, starting at $199.99 per ear. Prices include a 45-day trial, a 90-day warranty and free shipping.

Chat with a Reviewconsumerservices decision guide

Live agent
Read 9 Reviews

Sells nine models. Features include voice ranger, tinnitus relief, music enhancement and button control. Resists moisture, dirt and wax. Optional remote control and smartphone app.

Chat with a Reviewconsumerservices decision guide

Live agent
Read 19 Reviews

Sells five hearing aid models. Provides feedback reduction and switch controls. Offers optional remote control and rechargeable batteries. Prices start at $1,400 per hearing aid.

Chat with a Reviewconsumerservices decision guide

Live agent

Hearing aids that use light-driven technology to vibrate eardrums. Pair with iPhone technology. Rechargeable processor. Promises no acoustic feedback. Customizable programs for different listening situations.

Chat with a Reviewconsumerservices decision guide

Live agent

Sells rechargeable and battery-powered hearing aids in multiple color options. Provides remove hearing tests with no in-person tests or fittings required. Offers three years of support and a 100-day trial period.

Chat with a Reviewconsumerservices decision guide

Live agent

A Danish-made, nonmedical listening device for anyone who would like to hear human speech better in noisy environments. Available in three colors for $149 per pair. Preorders available. Shipping begins November 2021.

Chat with a Reviewconsumerservices decision guide

Live agent

Hearing aid provider offering at-home and over-the-phone service. Free hearing consultation and personalized recommendation from licensed specialist. Home testing and fitting by audiologist. 45-day money-back guarantee.
Disclaimer
Information in this guide is general in nature and is intended for informational purposes only; it is not legal, health, investment or tax advice. Reviewconsumerservices.com makes no representation as to the accuracy of the information provided and assumes no liability for any damages or loss arising from its use.
You're signed up
We'll start sending you the news you need delivered straight to you. We value your privacy. Unsubscribe easily.
Comparing
×